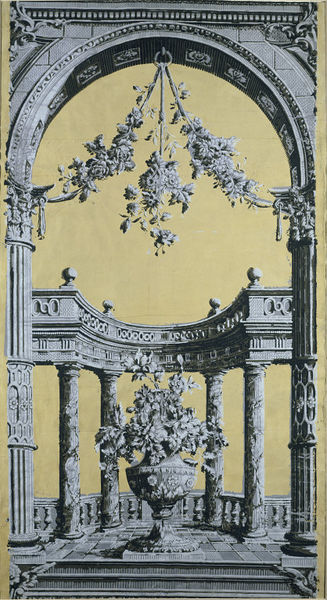 Found here.
Object Type In Britain, paper printed with patterns has been used for decorating walls since the 16th century. By the later 19th century, wallpapers were widely used by all classes, in homes but also in public buildings.

Trading
Until the late 18th century, London was the centre of the wallpaper trade. Wallpapers manufactured in London were sold throughout the country, and exported to France and other parts of Continental Europe. From the 1750s English wallpapers were also sent out to America. In 1754 a Boston newspaper advertised 'Printed Paper for Rooms lately imported from London'. The pillar and arch style of wallpaper decoration was particularly popular in America. English wallpapers fell out of favour after the War of Independence (1776-1783), when America severed its political links with Britain, and American customers began to prefer French styles. At the same time an American wallpaper industry was being established.
Places
Pillar and arch pattern wallpapers were not widely used in Britain, but this unused piece was left over from the re-decoration in 1769 of the manor house at Bourton-on-the-Water, Gloucestershire. Similar patterns survive in a number of American houses. This particular design has been reproduced specifically for the refurbishment of an historic house museum - Gunston Hall, in Lorton, Virginia - where it has been hung in the entrance hall. In the 18th and 19th centuries most makers and sellers of paper-hangings (as wallpapers were then called) specified that the bold design of pillar and arch patterns were best suited to halls and stair-wells.